Below is a selection of press coverage Michael Petrie's HANDMADE GARDENS and/or Michael Petrie has received, listed in reverse chronological order. To read an entire article, click on headline.     
2016 For current news see our What's New page and follow us on Facebook and Twitter

THE DELAWARE COUNTY ONLINE NEWS NETWORK
"As soon as you see Michael Petrie's home in Swarthmore, you know an artist lives there..."

A story about us by Anne Neborak appeared on The Delaware County ONLINE News Network
2012
A Tale of Two Michaels: The Landscaper and the Florist
The list of exhibitors at the Flower Show reads like a "Who's Who" of the horticulture industry, and includes some of the area's finest landscape architects and installers, as well as respected floral designers. Every visitor has a favorite, and here are two that exemplify the differences. READ MORE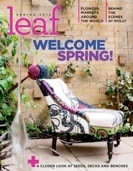 "Rocky in Philadelphia" A story called "Rocky in Philadelphia," about our 2012 Philadelphia International Flower Show exhibit appeared on pages 38-40 in the Spring 2012 issue of leaf  magazine.

"Garden designer Michael Petrie of Swarthmore is always up to something..."
READ "Here Come Rock Gardens" by Virginia A. Smith, an article about our exhibit posted on the
KISS THE EARTH: Ginny Smith Writes on Gardening blog at Philly.com

"Among the showcase exhibitors, Michael Petrie's Handmade Gardens of

Swarthmore stands out as the most interesting piece..."

READ about our exhibit in an article in the Reading Eagle

"Michael Petrie Prepares a Garden for the Gods
Philadelphia International Flower Show Blog, February 2012
"Bonnie's Beat," the Radnor Studio 21 weekly local cable television interview show, hosted by Bonnie Squires, Main Line Media News  columnist, features an interview with  Michael Petrie on Monday, February 13, 2012, at 7:30 PM on Channel 21.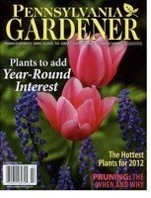 Creating an 'Image Garden' by Michael & Kathye Petrie, Pennsylvania Gardener magazine, Jan/Feb 2012 issue, pages 56-58.
Watch the "IMAGE GARDEN" SLIDE SHOW made by Lori Stringer Photography
2011
'Garden art should have a soul,' says aficionado
Philadelphia Inquirer, 5/6/2011 by Virginia A. Smith

Michael Petrie's Approach to Garden Art
Philadelphia Flower Show blog, 5/23/2011

Who can forget Michael Petrie's fabulous exhibit at the 2011 Flower  Show? Known for his beautiful creations comprised of objets trouves (found objects), Petrie's works are one-of-a-kind and blur the line between trash and treasure...
"Art is put into a garden because you have a connection to it. Garden art should have soul. It should have personality. You can't just go out and buy stuff and plunk it in your yard." — Michael Petrie, Philadelphia International Flower Show blog, 5/23/2011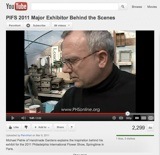 PIFS 2011 Major Exhibitor Behind the Scenes

Uploaded by PennHort 5/9/2011
Michael Petrie of Handmade Gardens explains the inspiration behind his exhibit for the 2011 Philadelphia International Flower Show, Springtime in Paris.
Michael Petrie talks with WHYY-91FM's "You Bet Your Garden" radio show host Mike Grath about the 2011 Philadelphia International Flower Show
Original air date: 2/12/2011 (interview starts at approximately minute 13:35 and lasts about 15 minutes)
Michael Petrie's Handmade Gardens to be part of central feature at 2011 Philadelphia Flower Show

Montgomery News website, 1/21/2011
2010
Philadelphia Flower Show Blog, 1/5/2010
Michael Petrie talks about his 2010 Philadelphia International Flower Show exhibit, "Bamboo
WRTI radio (interview starts at minute 3:26)
2009

Philadelphia magazine names HANDMADE GARDENS

"Best of Philly/Suburban Green Thumbs"  

Five Plants Michael Petrie Loves

Philadelphia Magazine, Posted Spring/Summer 2009 by By Lena Kravets

The genius behind Handmade Gardens picks his favorite flowers for 2009...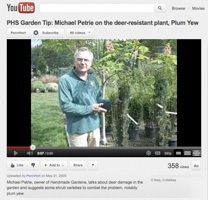 PHS Garden Tip: Michael Petrie on the deer-resistant plant, Plum Yew

Uploaded by PennHort on May 21, 2009
2008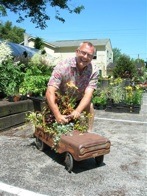 Creativity rules at new flower business

News of Delaware County, 7/22/2008 by Martha Van Artsdalen

You've seen his creativity each year at the Philadelphia Flower Show: Potbound with gargantuan flower pots, Big Time with an oversized timepiece, the Garden of Tooleries with pastel-painted, tumbling lines of gardening implements, pathways of pussy willows and a den of dinosaurs. Six times in 11 years his designs have snagged landscape "Best in Show" trophies...
Sorry, this article is no longer available online. For a photocopy, e-mail kpwriting at comcast dot net with the words "HANDMADE photocopy" in the subject line. Paste a copy of the headline plus your snail mail address in the text field.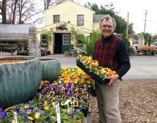 Ph
oto by
Daily Local News
Former Styer worker plants own business

Daily Local News, 4/8/2008 by Gretchen Metz

EAST CALN--Michael Petrie grows succulents in old coffee percolators, herbs in a wooden desk drawer and vegetables in a weathered orchard crate to create a salad in a box...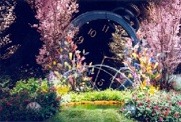 Designer Known for Flower Show Exhibits Branches Out on His Own

GREATER PHILADELPHIA GARDENS website, 1/22/2008 by Denise Cowie

To read about Michael Petrie's Flower Show Exhibits prior to 2008

VISIT OUR EXHIBITS BEFORE 2008 PAGE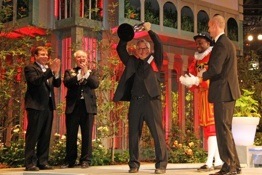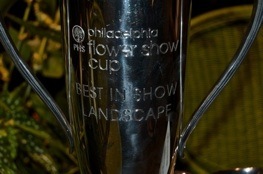 WATCH the VIDEO INSTALLATION by Noah Petrie that accompanied "THE HANDMADE GARDEN" exhibit.

This abstract film highlights the design process of exhibit designer Michael Petrie and blacksmith artist Greg Leavitt.

WATCH A SLIDE SHOW of the exhibit and other highlights made by Leavitt Studios at the Preview Party

Michael Petrie's 2013 Gardening World Cup Silver winner

in Nagasaki, Japan featured in Country Gardens® August 2014 issue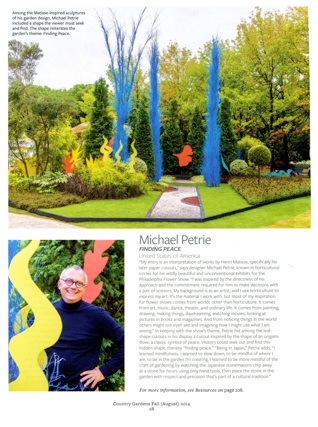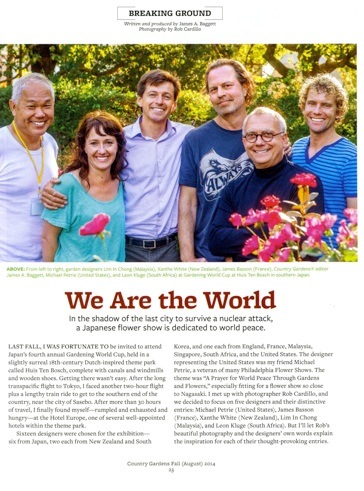 In October 2013, Michael Petrie represented the United States in the 2013 Gardening World Cup at Huis Ten Bosch in Nagasaki, Japan. In this event, Petrie was one of eight world class designers invited to create a show garden on the theme of peace. His entry, "Finding Peace," was awarded a Silver Medal.
"Finding Peace," was recently showcased in the August 2014 issue of Country Gardens® magazine, along with the gardens of four fellow designers in the show (see photo, below left). The Country Gardens® article, which was written by editor James A. Baggett,  featured photographs by photographer extraordinaire Rob Cardillo (Private Edens, The Layered Garden). More photos by Rob Cardillo from the 2013 Gardening World Cup can be seen in this A Flower Show at the End of the World "Garden Rant" guest post.

RELATED LINK:   Top Horticultural Talent Converge for the Gardening World Cup
Michael Petrie wins GOLD & BEST OF SHOW at International Garden Design Competition in SINGAPORE
RELATED LINKS:
First-timers steal show at S'pore Garden Fest by Natasha Ann Zachariah, The Straits Times

Michael Petrie's HANDMADE GARDENS • P. O. Box 7, Swarthmore, Pennsylvania 19081 • 610.505.8262 • www.handmadegardens.net